Rustic Collection 20cl Copper Tin Candle
£

8.00 Sold Out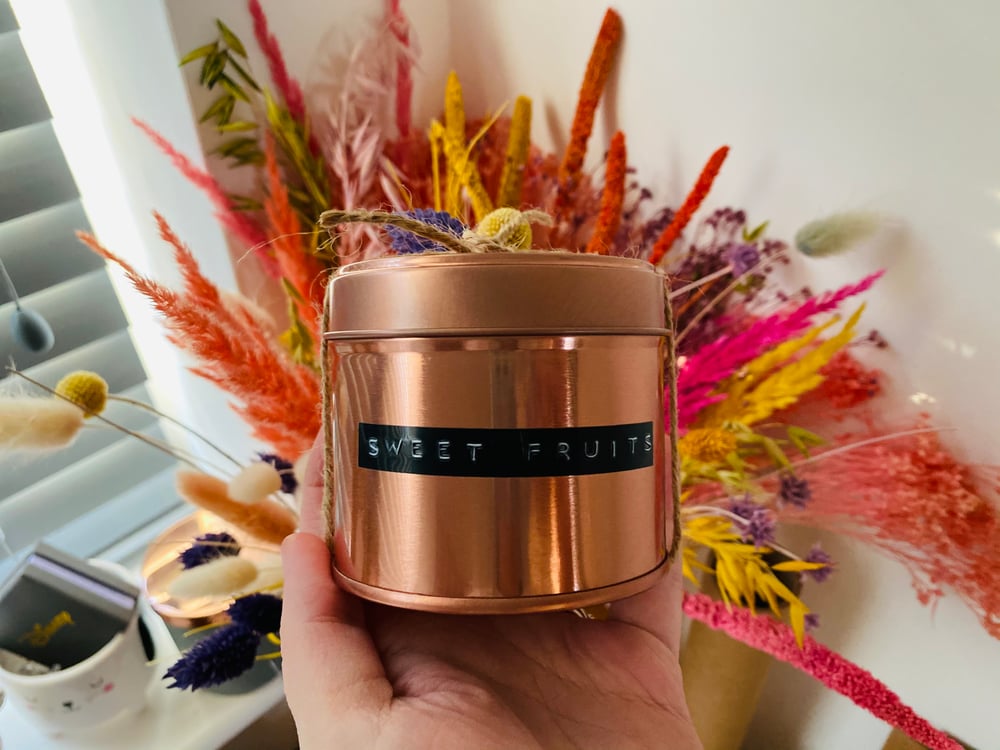 COVID 19 - free local contactless delivery in Cottingham
*LIMITED EDITION CHRISTMAS FRAGRANCES*
A M E R R Y M O R N I N G
A Merry Morning captures the spirit of the season with this inviting feel good accord. The fragrance unfolds with a zesty, uplifting fusion of citrus, orange and lemon while the heart of jasmine and fresh pine is embraced by the warmth of cinnamon, clove and ginger. All of this gently descends onto a sensuous fond of woods and musk.
C H R I S T M A S C O O K I E pre order for delivery from 17th November
White Chocolate Christmas Cookies is reminiscent of a steaming white cocoa, combined with the warmth of delicious Christmas cookies straight from the oven, this fragrance combines sweet notes of biscuits and nutty notes. All of this is smoothed by creamy, delectable lashings of vanilla.
Ready to post from 17th November 2020
M A G I C E L F D U S T
A floral fruity gourmand fragrance. The fragrance features pear, sweet notes, cotton candy, vanilla and cherry. A fresh and and uplifting scent.
B L U E B E R R Y M U F F I N
Luscious bakery tones are perfectly balanced with ripe berry in this classic fragrance delight. A tasty combination of rich creamed butter, fresh ground cinnamon, hints of brown sugar and sweet wild blueberries. A base of vanilla bean completes the bakery sensation. Super Strong!
S T R A W B E R R Y D I A Q U I R I
Sharp hints of strawberry and raspberry open the fragrance, wrapped in a fruity punch of citrus bursts and apple skins. The heart blooms to life with a floral bouquet of jasmine and gardenia before coming to a close with golden caramel and peach accords.
Original fragrances
P I N A C O L A D A
A fruity cocktail of pineapple and orange zest first greet the nose, warmed by a heart of coconut cream and almond, all resting on a bed of toasted coconut and caramel.
R H U B A R B G I N
Perhaps the most popular gin on the market right now, this fragrance brings your favourite drink to a whole new level. Fresh rhubarb is crushed with juniper berries and grapefruit zest, shaken with fruity accords and a squeeze of lime added on top. This mixture is poured over cassis and freshly cut cucumber for a refreshing feel, warmed with sticky amber and linear woods.
W A T E R M E L O N M A R G A R I T A
Crunchy watermelon and honeydew are sitting on a throne of green leaves, sweetened with orange juice and fresh raspberries. Delicate petals of lilies fall around as the heart of lychee blends effortlessly with a base of vanilla cream.
S W E E T F R U I T S
The fragrance opens with fresh green fig and red berries, wrapped together with accords of cassis and orchard apples. Lilies blossom to life along with dusky pink rose and jasmine, all tied together with a string of golden vanilla pods. Just like ordering a Kir Royale!
All our rustic collection candles are houses in a copper 20cl tin
cruelty free, phthalates free, vegan friendly and boasts an approximate burn-time of 30 hours.
Share